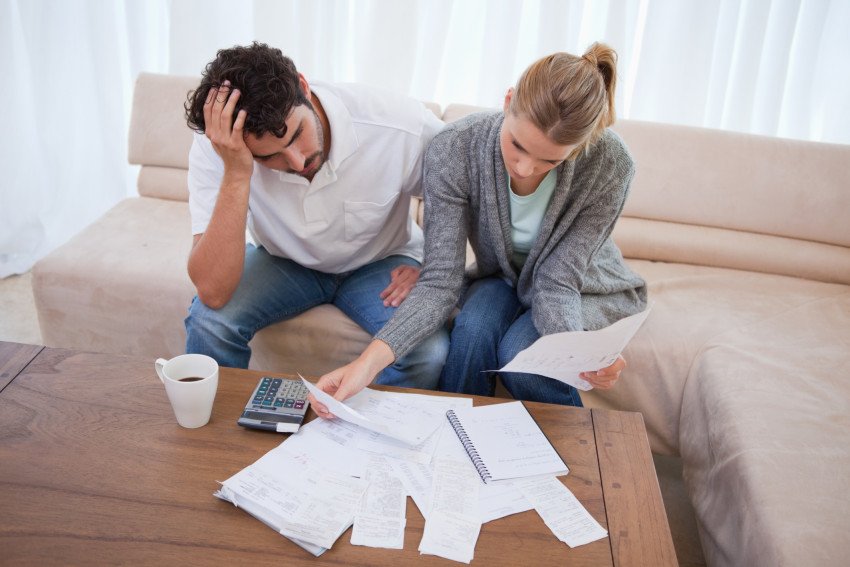 Being a newlywed is awesome. I reflect on that season of my life as one filled with joy and anticipation. Sure, that first year of marriage was full of challenges, enormous adjustments and unexpected changes, but on the whole it was great.
We found such relief in finally being marriedand out of engagement. Engagement is a funny time. You often take on new priorities and responsibilities you've never had before (like part-time event planner) and that can wear on you and the relationship after awhile. Engagement is meant to be a temporary phase in life and most friends I know, myself included, have been thrilled to see an end to it — the lists, planning, preparation, etc. In the midst of all of the planning and celebrating, the topic of money is often overlooked (aside from the wedding budget). Yet studies tell us money is a top cause of conflict and divorce among couples. Money can be hard to talk about. Our culture has made money-talk a taboo subject, which can make it all the more difficult to start talking about money (regularly) with another person, especially if you were used to keeping your money matters private for so many years.
Here are a few money mistakes I see newlyweds make. Regardless of how long you've been married, though, it's always important to check in and make sure you're not letting the important things fall by the wayside.
1. Forgetting to Update Important Plans & Documents
When you start a job and enroll in your employer's various benefits, you are prompted to assign beneficiaries tothings like your 401(k), group life insurance, even an emergency contact in some instances. Getting married means it's time to review these beneficiary designations.
You should also review current insurance policies and see if you need to add your spouse to the plan or review your coverage entirely. If you are both on individual health insurance plans through work, it's worth comparing the cost of keeping your individual plans versus one of you joining the other's plan. It's possible you'll save money by being on the same plan. When evaluating the cost, consider monthly premiums, deductibles, co-insurance and co-pays.
If you happen to have estate-planning documents like wills, health care proxies, living wills, etc., these documents also warrant review and updating when you get married.
2. Overlooking the Need to Get Organized
I know, it's one more administrative thing that's not fun to think about or act on, but it is important to be organized. If you don't talk about it, habits will naturally form and you'll likely end up with unnecessary confusion and stress, which can lead to conflict. Don't be scrappy with your finances. I survive by being scrappy as a parent (I'm a mom of two toddlers). But this ability doesn't translate as well with finances.
Try this: Sit down and list out all the accounts each of you have and then talk about which accounts you want to join, leave separate, combine, close, etc. Simplicity is a wonderful thing. Decide which account(s) you'll use for routine expenses, where you'll keep your emergency savings, longer-term savings and investments. Even if you plan to keep accounts separate, have this conversation so it's intentional and there's no confusion about how bills and shared expenses will be handled.
You can also make your credit reports a part of this process — so you both have an understanding of each other's credit history, and create a plan for building better credit, or maintaining your great credit if you have it. If you're not familiar with your credit reports, you may find them to be overwhelming at first — here's a guide to deciphering your credit report. You can get your free credit reports once a year from each of the three major credit reporting agencies, and you can get a free credit report summary on Credit.com, updated monthly.
3. Avoiding Money Talks
Money is a leading cause of conflict and stress for couples, which can be enough to discourage some people from discussing the topic at all. If you learn to talk about money early on (especially when times are good and emotions aren't running high), you'll be prepared when money issues arise.
Talking about money feels like creating a new habit. Sometimes you just have to start doing it, even before you're comfortable doing so, and allow the habit to take shape.
Here are a few starting points for your conversations about money:
Share your history with money (What lessons about money did you learn as a child?)
Current stress points with money
Goals you hope to achieve with your money
Expectations for your current lifestyle and how you want to use your money
Spending habits (Where do you spend money the easiest, with most resistance?)
A Word of Encouragement
Financial unity and stability with your spouse is a process. You don't have to have all the answers or all of the kinks worked out from the beginning.
If you and your spouse have different approaches to money, (how you spend versus save, what you value, etc.), this doesn't have to mean never-ending conflict. It's possible you both need to learn to compromise and pushing each other toward a middle ground may be the healthiest thing for both of you. And that's one of the great benefits of marriage — the messy but beautiful process of refining each other and growing together in ways you never could alone.
This article originally appeared on Credit.com and was written by Julie Ford.